More Resources to Help You Write Great Resumes Faster
Be sure to click COMPLETE & CONTINUE at the top of the page to close out the module!
Like what you've learned so far?
Take it to the next level by purchasing the "Write Great Resumes Faster" special report!
Are you ever stumped on where to start with a particular client's résumé? Do you keep track of how long it takes you to write a résumé? Would you like to shave 15, 30, or 45 minutes — or more — off your writing time? Looking for ideas on how to create better résumés to win your clients an interview? Looking for another phrase to use instead of "Qualifications Summary"?
The "Write Great Résumés Faster" special report (digital download) contains hundreds of ideas and resources compiled by Bridget (Weide) Brooks, CPRW, editor of Résumé Writers' Digest.
Look inside:
• Better Questions Yield Better Résumés
Order your copy of the 87-page special report today — only $14.
Get it here: Write Great Résumés Faster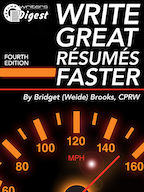 Complete and Continue